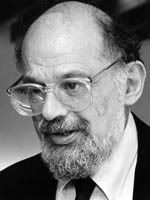 Yesterday, in one of my classes, we discussed
Ginsberg
's "
A Supermarket in California
." During our discussion, I mentioned that the line "What price bananas?" contained
Whitman
-esque undertones, in that the price of bananas is inextricably linked to the environmental, economic, & political conditions of foreign countries. To wit, I retold an anecdote about the induction of bananas into the U.S. economy during the mid-twentieth century at the Chicago's World Fair & how this, to some extent, was indicative of the nascent stages of globalization. Said globalizing forces dialog with the universal, using a particular context (in this case, the price of bananas at a grocery store in Berkeley). The oscillation between these 2 extremes, to my mind, represents Whitman's conceptual framework in many ways (at least when he's being subtle & not over the fucking top). When I mentioned that my banana-knowledge came from a program on bananas, specifically an episode of
NPR
's
Fresh Air
, I was met with resounding laughter. IMO, people who don't listen to NPR are kind of stupid. People who are amused by people who listen to NPR are a bit worse.
There are many reasons to love NPR besides
Fresh Air
. Take, for instance,
All Songs Reconsidered
: a great music program. This week, they streamed a song from the new Portishead album, as well as 1 from the forthcoming Fleet Foxes, MMJ, & Wolf Parade LPs. Amazing. You can listen to all these tunes
here
. & holy shit, they just put up
a live stream
of Malkmus & the Jicks in D.C.!