As always, click on images for bigness.



Curious as to how

diamond

considers the information on the back of their matchbooks important. I mean, do we really need to know the product features of a match? Did we not already know that matches were portable? Perhaps diamond brand matches are the most common selection for first-time match user? Who knows.

Below, although not particularly unique, is a matchbook from the now defunct Red Room (link printed on matchbook no longer functioning [sigh]). For years, this was my neighborhood (Go

Colfax

! Go

Capital Hill

!) bar. I shed a tear when I found out the place closed down. Ah, I remember the days of budding up with the bartenders & drinking there until 5AM. Memories.



| | |
| --- | --- |
| | |
Now here's a matchbook for the ages: a collector's item from the
Brian Jonestown Massacre
documentary
DIG!
You could find these tasty little morsels in hipster bars & concert venues in the spring of 2005. If you haven't seen this movie, let me tell you that it is a "Must Watch." Anton Newcomb is a fucking madman & his exploits are hilarious. Bonus points for every time the
Dandy Warhols
get punked out. What douche bags.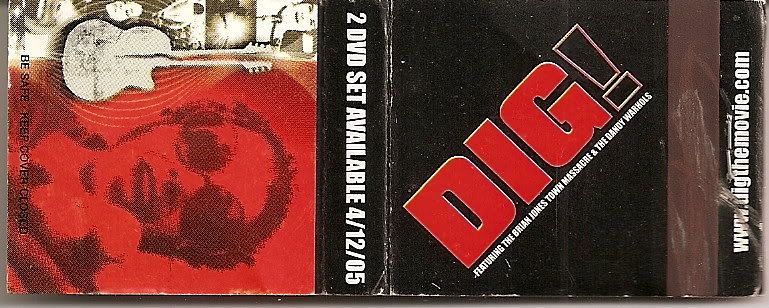 The matchbook below is from
Wildberry
(obviously) circa 2001, which is a head shop in Oxford, OH. What I like about this particular matchbook (besides being totally blown away by the fact that I still own it) is the way the script wraps over the middle fold. That's not a design feature you see all too often, so the ingenuity is well appreciated.